Online Verbal Ability & RC Course for CAT 2023
Enrollments open for Batch-2- Use code SPL15 for 15% Discount!
– Validity: Online CAT Coaching course will be valid till 31st January 2024
– Video Lectures: All Verbal Ability and RC topics for CAT & MBA exams covered in the course
– Weekly Live Classes: Weekly live classes ensuring regular interaction and in-depth concept coverage
– Special Reading Help: Daily Reading assistance with links, article summaries, and discussions.
– Practice RCs: 800+ Practice RCs divided across levels and types
– Question Banks & Tests: Exhaustive set of Practice Problems & Section Tests
Check out the courses here
Why should you join the course?
Honestly, we offer you more than one reason to join:
Focus on Reading Skills
The key to improving VA-RC is reading and for this specific reason, we offer you daily reading help.
You learn from the best
You have one and only mentor for the whole duration of the course: Prashant Chadha
With Doubt Support
We are available across mediums for our students: Course Dashboard /Whatsapp /Video Mentoring/Email.
Our Flagship CAT-2023 Courses
Explore course details here
Our Flagship Personality Development Courses for 2022/23 Session
Explore course details here
Two More of Our Courses
Explore course details here
Why should you join the course?
Honestly, we offer you more than one reason to join: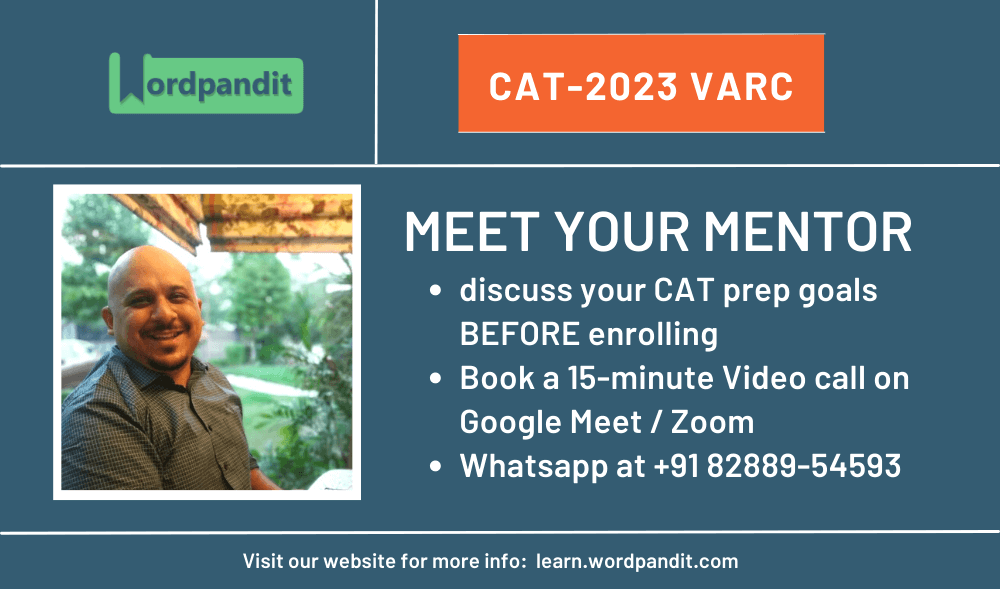 Connect with Us & Join our free preparation groups
Connect with us on Facebook and on Telegram
Our Results & Testimonials
Our results speak for themselves!
Student Testimonials - CAT 2020
Online Class Reviews - CAT 2020
Student Testimonials - CAT 2019
Student Testimonials - CAT 2018
Why we offer the best free prep for CAT-2021?
Go through the following list of features and you are most definitely going to use Wordpandit:
CAT 2021 Prep Plan
The special 120-day CAT-2021 prep plan is up and running now.
Special GK Section
We provide daily GK updates to keep you updated with the events of the world.
Reading Suggestions
We are the only ones that provide extensive reading suggestions.
Visual Vocabulary
We have provided more than 1000 word posters for you to learn.
Blogs and Articles
We provide host of articles covering concepts and exam strategy.
Mobile-friendly Flashcards
Our vocab flashcards cover more than 3000 words. What more do you need?
Articles and Resources
Tips & articles for your CAT 2021 preparation
How to start your preparation for GD, PI, and WAT? Well, it is that time of the year where you need to worry about the second stage of preparation and wrap your heads around it. Primarily speaking, there are three things you need to prepare for: Group Discussions...
read more
CAT 2021 Preparation Resources
Hand-picked material for your CAT prep
Your Prep Dose for the Day This is a comprehensive daily course run by us (almost on a daily basis), wherein we post study links according to the various sections in the CAT exam. All you have got to do is visit this page regularly, and consume the study links given...
read more
Topic: Number of ways to express a number as the sum of two or more consecutive positive integers I have a question for you: in how many ways a natural number N can be written as the sum of two or more consecutive natural numbers? Well, this is a question type you are...
read more
Question: How should you analyse CAT Verbal Ability Mocks? Solution: Well, this is a tricky one. QA, LR and DI Mocks are easy to analyse. You spot your mistakes and check solutions for questions you got wrong. And through some questions in the mock, you learn some new...
read more